Summer is also when neatly tied hair becomes the beauty icon of women. How to have tied hair with silk scarf pretty?
Under the hot summer sun, neatly tied and cool hair becomes the top priority of women. In addition to learning to choose a hairstyle that suits the face, the accessories are also a factor that makes girls wonder. A trendy, sophisticated hair accessory that not only keeps the hair neat but also completes the overall look.
So among the countless hair accessories, which one is "making the storm" in the hearts of the fashionistas? Revealing to you, silk scarves with soft textures will be an effective "assistant" for smooth hair in the hot summer. Let's discover 5 beautiful ways to tie your hair with silk scarves to enhance your beauty.
Half – tied hair with silk scarf
This is the perfect hairstyle for gentle, dreamy girls. Half-tied hair with a soft silk scarf and a few loose curls in front of your face will make you look feminine and gentle.
You can refresh this hairstyle by tying or twisting your hair on the first half. On the top half, take two small ponytails from the temples, tie or twist your hair as you like and tie them up with a pretty silk scarf. If you are afraid of losing your hair, you can tie it up first with small elastic bands, then tie the silk scarf out.
Low ponytail tied
hair
with silk scarf
For those who love the style of noble and haughty Parisian ladies, try a low ponytail with a silk scarf. To make this hairstyle, you just need to use an elastic and do it like a regular ponytail. However, instead of tying it up at the top of the head, lower the hair close to the nape of the neck. Then use a silk scarf to tie a knot around the hair elastic and let the end of the scarf go along the length of the hair.
You can vary: puff up the hairline or let some loose curls loose in front of your face to create a natural, slightly "messy" look.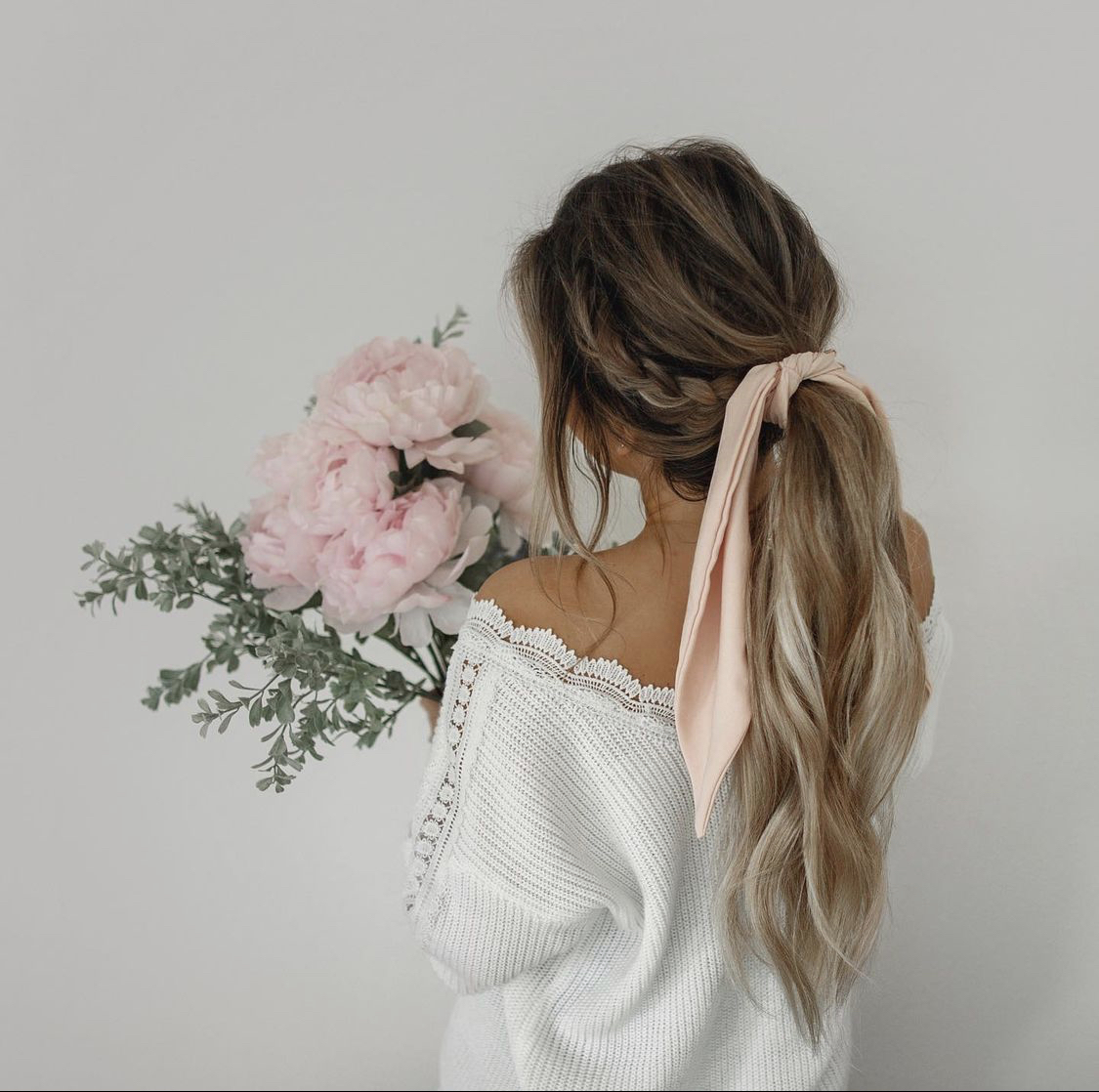 Braided hair with silk scarf
This is one of the easiest ways to tie a silk scarf. Divide your hair into three sections, then insert a long silk scarf into two of the three sections and tie your hair as usual. With this hairstyle, instead of tightening like traditional braids, loosen your hands a little to create a fragile, feminine feeling.
Use a silk scarf to bun your hair up
For hot days that need neatness or simply want to cover up frizzy hair, we suggests you try a high bun with a silk scarf. High bun hair will be the "savior" for bad hair days, bringing comfort but still extremely fashionable thanks to the silk scarf highlight.