Let's refer to how to mix sport chic with basic sportswear items to confidently walk the streets this Summer.
Sporty chic is a fashion style inspired by a strong sports spirit
Sporty chic is a fashion style inspired by a strong sports spirit to create dynamism and fashion for the wearer. It would be wrong if you still think that sportswear is only for fitness enthusiasts and gym enthusiasts. Today, a lot of designers around the world have taken inspiration from sportswear and created sporty chic outfits for everyday wear. Sporty chic is the perfect combination of strong sportiness and flexibility, fashion in the same style. This unusual sounding combination creates a comfortable, modern and trendy look for the wearer.
Referring to sporty chic, people quickly think of images of girls who are strong and full of life but also sexy and fashionable. These sporty outfits are suitable for girls in not only active weekends but also elegant office days.
Sport bra is an icon item of sport chic style
As an important part of the sportswear set, few people know that the sport bra can also become a stylish and outstanding piece of fashion. Sports bras with comfortable, body-hugging shapes will give you a strong and flexible appearance.
For the office days that are elegant but still need a bit of flair, mix your sport bra with an oversized blazer or tweed jacket with flared jeans.

Still an outfit with blazer and sport bra, but for a more active day out, you can combine them with a personalized biker shorts or comfortable sports elastic shorts for a more comfortable look.
Another suggestion to coordinate with a sport bra for summer outings is to wear a crop top outside the sport bra. This combination will give you a youthful, dynamic but still trendy look.
Wide leg sports pants
Sports pants are also indispensable fashion items in sporty chic style. Summer this year welcomes the throne of sports pants with wide shapes and colors and fashionable and prominent side stripes. You can mix these sports pants with a crop top, a plain t-shirt or the same color for a youthful, healthy look.
Or you can also combine oversized shirts with sweatpants for an elegant yet dynamic outfit.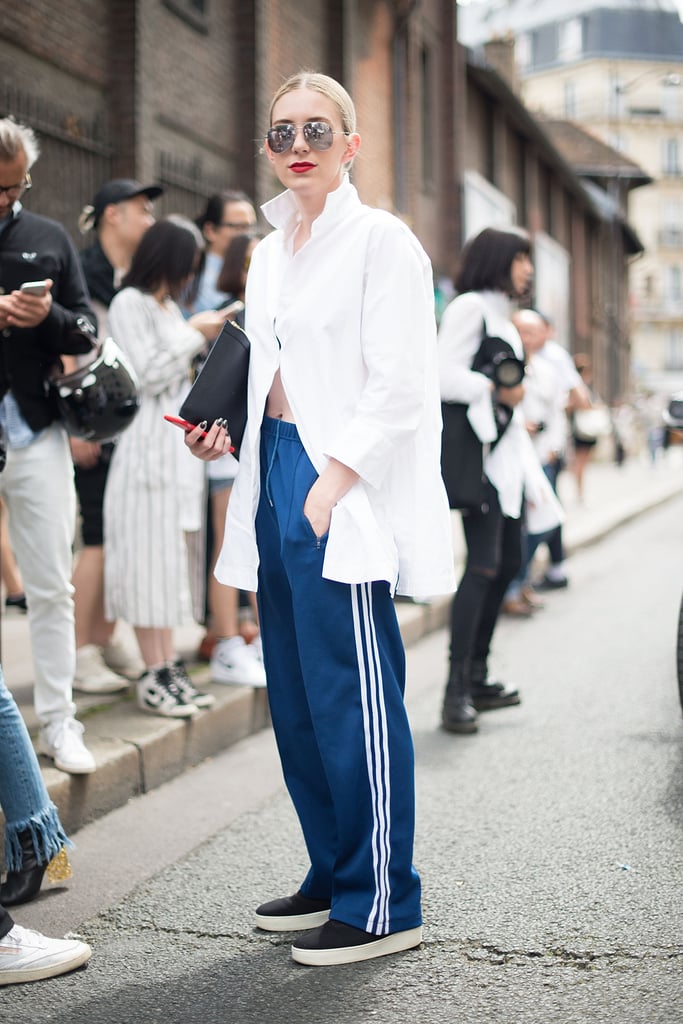 Being fashionable in sport chic style with cap
Caps are an indispensable accessory in the summer set of girls in sporty chic style. Not only helps you protect your skin under the harsh summer sun, but also enhances the outfit with more personality and fashion. In addition to safe color choices, try mixing & matching brightly colored hats to make your outfit stand out more.